the band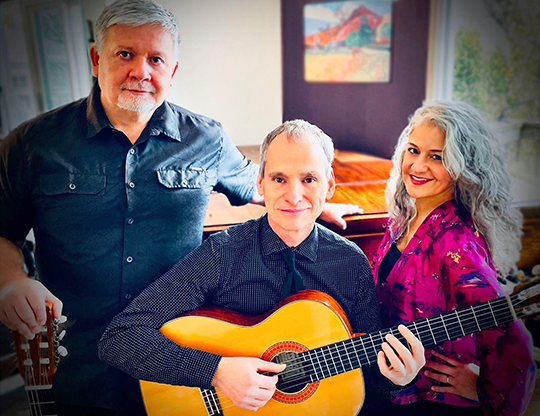 Flamenco Caravan blends influences ranging from flamenco, jazz and rock to elements of Latin, sacred and folk music. The band's sound is characterized by tight guitar flourishes and smooth vocals, with strong, melodic lyricism and driving and grooving rhythms throughout. The music has been described as "world-class", "beautiful and magical", "moving", "amazing in its variety" and "alternately soothing and stirring to the soul".

Formed in 1999, Flamenco Caravan is comprised of Esteban Figueroa on flamenco guitar, Susanna Di Giuseppe on keyboards and vocals, Tony Agostino on flamenco and acoustic guitar, Jim Differ on drums and percussion, and Greg McIntosh on bass. Often additional musicians on percussion, backing vocals, trumpet and other instruments add to the band's full sound.

The group has opened for acts such as Colin James, Jeff Healey, Paul Shaffer, Pink Martini and America and their performances at the Owen Sound, Red Rock and Cambridge folk festivals have garnered rave reviews. The band's reception at 2007's Ottawa Jazz festival to an audience of 10,000 plus was equally enthusiastic.

Flamenco Caravan recorded Love's Philosophy in 2005, and Alchemy, in 2007. Both CD's were released to record audiences at the TBCA, prompting the GM of that venue, Bob Halverson, to comment, "You expect someone on the international stage to be good, but when you find someone in Thunder Bay who is as good or better, that ices it for you."
Flamenco Caravan has a following on CBC radio at the local and national levels. The band receives consistent airplay and both Love's Philosophy and Alchemy were named top 10 picks of 2006 and 2007, respectively, by CBC Radio's foremost new music reviewer, Mark Rheaume. In addition,"Aires De Cuba", a song from Love's Philosophy will be featured in a major 2013 motion picture called Look of Love, starring oscar-winning actors Robin Williams, Ed Harris and Annette Bening.