esteban figueroa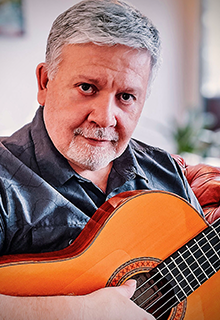 Esteban began his musical journey at the age of five in Chile, South America. His musical beginnings were first inspired by his grandmother, Zulema, who played the harp and guitar for guests and house parties.

After moving to Canada with his family, Esteban began his studies in jazz guitar and throughout his high school years was nominated Best Canadian Jazz Guitarist under 19 for three consecutive years (Canadian Stage Band Festivals). His teacher and mentor at this time was Brian Lillos who later introduced Esteban to jazz guitarist Oliver Gannon (Fraser MacPherson Quartet) and pianist Louise Rose (a student of jazz great Oscar Peterson) from whom he learned much with respect to soloing and jazz techniques. It was in Victoria, British Columbia, that Esteban was introduced to the Alma de Espana flamenco dance company and his flamenco guitar teacher Harry Owen. Harry was a student of flamenco great Manolo Sanlucar and would be a huge influence and mentor to Esteban until Harry's death in 2010. Esteban performed with Alma de Espana from 1990 to 1996, travelling throughout central and western Canada.

After moving to Thunder Bay, Esteban met guitarist Tony Agostino and formed Flamenco Caravan; the two would later team up with Susanna DiGiuseppe to add a vocalist to the group. Although Flamenco Caravan was originally formed to play flamenco music, it has transformed itself into a cross between flamenco, world, jazz and contemporary music.

Throughout his career, Esteban has had the opportunity of working with country bands, jazz ensembles and jazz-fusion groups. As a soloist, he has performed in Phoenix, Paris, and Las Palmas (Spain) as well as Chile, the DRC–Congo and Mauritania. Moreover, he has had the privilege of playing with some truly world-class players such as jazz great Alain Caron (on bass and featured in his solo CD Calma) and world-renowned guitarist Jason Carter.

Esteban's discography:

Group: Vientos del Sur
CD Title: Vientos del Sur
Release: 1991

Group: Flamenco Caravan
CD Title: From Here To There
Release: 2000

Group: Flamenco Caravan
CD Title: Love's Philosophy
Release: 2005

Group: Flamenco Caravan
CD Title: Alchemy
Release: 2007

Group: Esteban Figueroa
CD Title: Calma
Release: 2007